UPCOMING EVENTS
Charlas:
Spanish conversation classes. If you want to practice your Spanish, or if you are taking Spanish classes and have questions about your homework (or anything  for that matter) then come join us at Sidney Smith room 2112 every Tuesday 4-5pm! 🙂
Salsa Lessons:
Salsa lessons take place every week but on alternate days!
Location: 21 Sussex Ave – fourth floor dance rehearsal room (unless otherwise announced on our Facebook group/e-mail
Time: 5-6pm
We will have salsa classes the rest of this semester on the following days in November:
Wednesday 7th, Monday 12th, Wednesday 21st, Monday 26th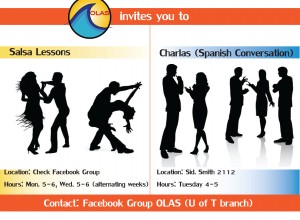 ———————————————————————————————————————————————————————-
PAST EVENTS
OLAS, Brazuca, FAUT Halloween Party!
Your favorite cultural clubs are teaming up again to bring you the best Halloween party in town! Join us at The Ballroom on Saturday 27th to celebrate the end of midterm season!
Dress code: costumes mandatory;) (originality will be rewarded with drink tickets!)
NO COVER
19+ (we are currently negotiating with the manager to put a wristband system in place, we'll keep you guys posted).
Facebook event page: http://www.facebook.com/events/339250606170876/